Ben Lerwill visits Sri Lanka's largest national park and discovers a wildlife haven with a humbling history.  
When sloth bears are peckish, they don't mess about. The early morning sun was casting its first orange rays over the forests of Wilpattu National Park, and we were watching one of Sri Lanka's rarest animals hoover up its opening meal of the day. Feet away from our lone jeep, the bear had been using its sharp claws to rip out webs of thick roots from the earth. Now it was faced with its reward: easy access to the soon-to-be-swallowed residents of a large termite nest. It protruded its lips and began noisily sucking up the insects, stamping its shaggy black paws in exuberance. Breakfast in the tropics might not be decorous, but it's clearly enjoyable. 
The name "sloth bear" is something of a misnomer. The animal is so called thanks to early naturalists, who saw its claws and gapped teeth and wrongly assumed it to be related to the South American sloth. But this is no lazy leaf-browser. Small by bear standards, it is immensely strong and can unleash bursts of speed faster than most humans. Like Sri Lanka itself, it is not to be judged by size alone.  
This was just my fourth day on the teardrop-shaped island, and the little country was already proving every bit as layered and entrancing as I'd been told. The wildlife? Brightly feathered and scaly-skinned; an ark's worth of bee-eaters, crocs and elephants. The roadside culture? A colour-splash of temples and churches, mosques and monks. The food? Fiery, complex and even better than I'd hoped. And the history? Humbling.      
Wilpattu is an extraordinary place, not just for its menagerie of creatures and its raw beauty – much of which centres on the national park's vast willus, or natural lakes – but also for its past. It sits four hours north of Colombo's international airport, a location that placed it on the frontline of the civil war when conflict broke out in the 1980s. It was once the country's most visited park, but was forced to close in 1988 when, shockingly, its wildlife rangers were murdered en masse. The animal population was decimated by poaching, and its gates only reopened for good in 2010.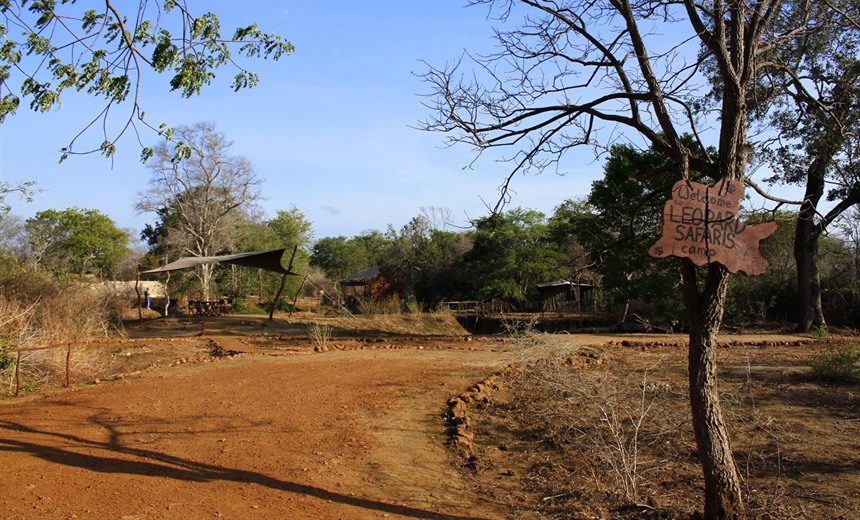 I was fortunate enough to be staying at
Noel Rodrigo's Leopard Safaris
, a high-end tented retreat on the park limits that struck a neat balance between luxury and the outdoors. Nightjars called from the canopy. The coffee was always good. Glass bottles strung between trees acted as an early-warning sign for wandering elephants who had lost their way. But best of all, the camp was staffed by guides who not only knew their stuff but were skilled at imparting their passion for the surroundings.
On my first evening, I sat under the stars with Saj, a local South Africa-trained guide. Fireflies blinked past in the warm night air. Dishes appeared on our table – fish curry, string hoppers, coconut and chilli sambol, banana flowers, Sri Lankan aubergine – and he led me through the basics of using only the fingertips to eat with. 
"It's up to you if you want to try it, but it's hygienic – and it actually tastes better too," he smiled. "You're actually in touch with the food." Carefully digging in, I was converted within minutes. The flavours blasted out in waves. "That's right," he continued. "With Sri Lankan food every mouthful should be different. That way, your tastebuds never get bored. It's spicy too, eh? When you get a bit of a hiccup, that's a proper good curry."
By the time I retired to my waterside tent – where the splash of otters and the buzz of cicadas provided a bedtime soundtrack – Saj had talked in depth about everything from astronomy to frog calls. 
Wilpattu these days draws only a fraction of the visitors of some of the southern national parks, but this quietness is very much a bonus, as I was to discover over the next three days. On each game drive, once the jeep had made its way down the long, rutted, birdlife-rich path into the park proper, there was often the feel of being on your own private reserve. Wild boar tottered, mongooses skittered, peacocks preened and kingfishers flashed. Crocodiles basked in the sun at the water's edge while elephants loudly tore off low-lying branches. 
Wilpattu's famous leopards remained elusive – we saw fresh pug-marks one morning, but not their maker – although it's testament to the calm and scale of the park that the pang of disappointment I felt was only fleeting. After all, who in their right mind feels the need to grumble when they're being served papaya juice and fresh roti flatbreads while watching sea eagles trace loops above the jungle?  
Behind the wheel, Saj's colleague Praneeth was another young guide for whom the park was clearly a deep-rooted passion. He was no less thrilled than I was when, on my final morning game drive, our breakfasting bear appeared. My time here was just the start to my Sri Lankan itinerary – the old fort city of
Galle
and the further wildlife treats of
Yala
lay ahead over the coming week – but I left knowing I could happily have stayed for longer. 
Maybe even a lot longer. Praneeth had now spent years here, driving daily along Wilpattu's forest paths and wide lakeside trails. Did he ever get bored, I asked him? He stopped the jeep and fixed me with bright eyes, laughing. "Bored? Every drive is different. It's a paradise for me." And given the turmoil the park has gone through in recent decades, these were heartening words indeed. 
A 9-day holidays costs from £1,589 per person, including 2 nights' accommodation at Noel Rodrigo's Leopard Safaris, game drives and flights with Sri Lanken Airlines.