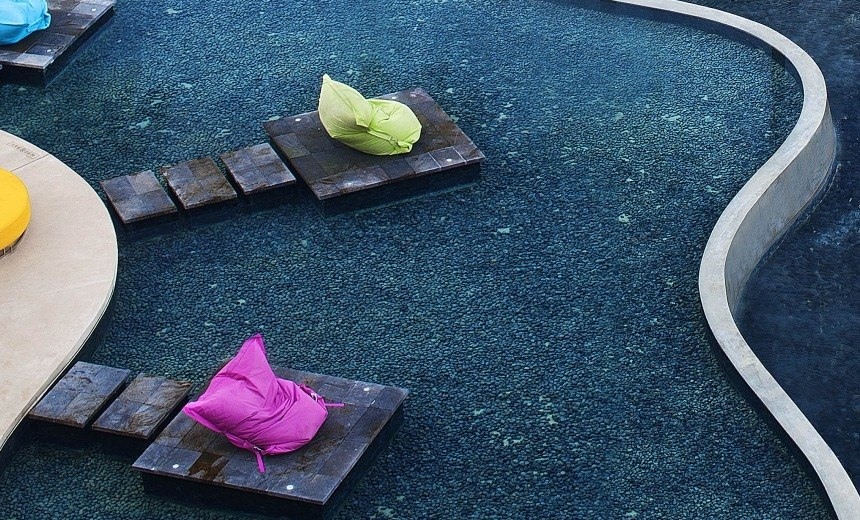 The Alila Ubud's pool is not only cool, it's positively Baltic: an infinity pool with a difference, as its emerald-green waters seem to magically float above the valley below. The wow factor has definitely been achieved here as well as a great way to soak up the dramatic Ubud landscape! The Alila Ubud gets 10/10 for cool factor with this one, we foresee dreamy evening swims and mornings watching the sunrise over the dense treetops, with your feet in the water.
At night, a myriad of colours both from the sky and the mellow underwater lighting, and by day, a haven of relaxation and breathtaking ocean views as far as the eyes can see, the pool at the Banyan Tree Ungasan is effortlessly cool. The stunning and interestingly shaped infinity pool perches over the Indian Ocean and at night, the subtle green and white lighting perfectly compliment that pinks and purples of the setting sky.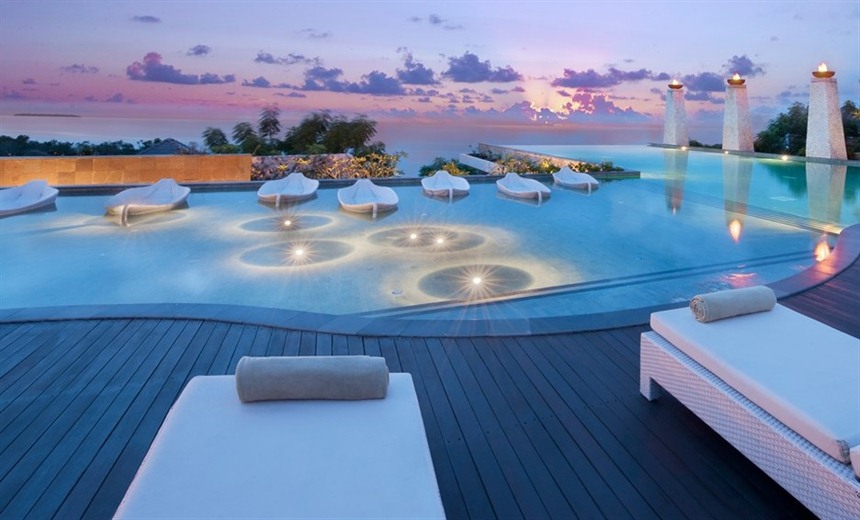 As you may expect from a member of the Four Seasons family, the pool at the Jimbaran Bay is cool simply by association, well that and its views across Jimbaran Bay and luxurious sun lounger cabanas. Life is pretty sweet here, and not just because of the complimentary fresh fruit, but because the refreshing waters of this mosaic floored swimming pool is just a hop, skip and a jump from your villa. At night, the water looks simply serene under the gentle glow of thoughtfully positioned spotlights!
You would be forgiven for not knowing where the infinity pool ended and the sea began at the Alila Villas Ulutwatu, as the crystal clear waters of the hill top pool give way to the azure blue hues of the Indian Ocean. Perched on the edge of limestone cliffs, at night this pool glitters with drama, reflecting the striking palette of the sky and taking on an unparalleled tranquility and stillness. Adding to the magic of it all, the open-air cliff-side cabana sits almost over its waters before jutting out into the abyss and invites ethereal evenings of star-gazing.
Finally, we know this is not a cool pool per say, however it is a cool pool activity so it still counts: the
Spa Village Resort Tembok
runs Starlight Gazing Sessions at its main pool. An innovative spa treatment, where you'll lie weightless atop a floating platform as you gaze at the darkened skies with their plethora of stars, while you listen to a specially selected soundtrack. Starlight Gazing is a perfect blend of nature's simplicity with the hi-tech fusion of Ultra Meditation music and is a perfect way to end the night.
Do you know any cool pools for a Bali holiday? Or just cool pools in general? We want to hear from you! Let us know via Twitter @WandOtravel or Facebook www.facebook.com/westernandoriental