Crete's second city, Chania, is one of Europe's most up-and-coming holiday destinations. Our Copywriting Executive, Aileen Quinn, travelled there last summer and was lucky enough to be one of the first guests at the area's new and most luxurious boutique hotel Domes Noruz.
As a single mum, I don't get that much 'me time', so when I knew my son was going on holiday with his dad last summer I jumped at the chance to book myself a little solo retreat in the sun.
Crete
sounded like the perfect option; it was July so I knew the weather would be glorious and I've visited the island before so I knew I'd love it. The only problem was it was the school holidays, meaning not only peak travel prices but the possibility of packed beaches and plenty of families enjoying their summer vacations. Who am I to complain about that? I'm usually the one running down the beach after a small person! But after what had been quite a taxing few months all I really wanted was to chill out in tranquil surrounds.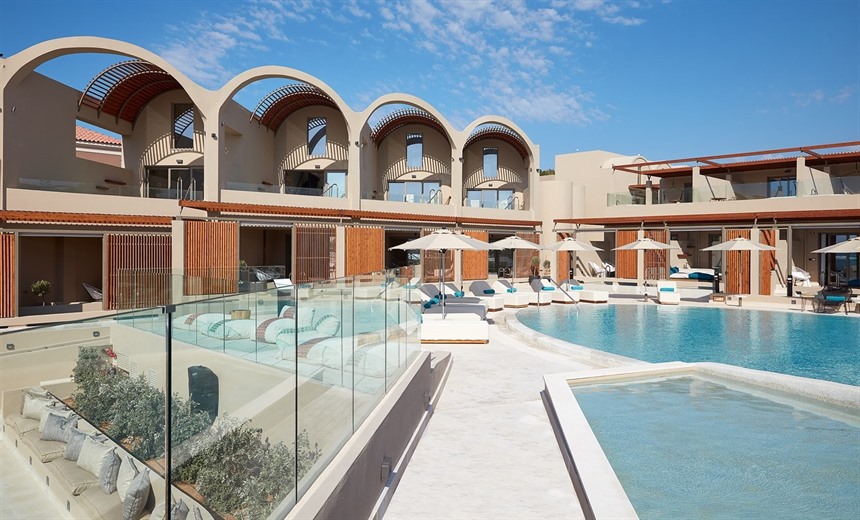 I couldn't have found a better setting for a truly grown-up break than
Domes Noruz
, a contemporary adult-only hotel that has the perfect mixture of quirk and elegance. 
Arriving in the high-ceilinged reception after a pleasingly short transfer (around 20 minutes) from Chania Airport I was already impressed. Walking through the grounds I immediately fell in love with the low-rise, domed, architecture and free-form pools. And then I arrived at my accommodation…
I stayed in a Sublime Loft; a stylish, quirky room set over two levels where the mezzanine lounge leads out onto a private balcony complete with hammock and bath tub. The view reached out over the super-cool main pool and bar to the beach and sea beyond. In short, I was in heaven!
After freshening up and taking a few too many pictures of my room, I headed for an aperitif outside Zeen, the hotel's chic restaurant. Enjoying a glass of wine I discovered how perfectly placed the hotel is to watch the sun set over the sea. On another evening they put on a champagne event before dinner in the same spot. One of the waiters actually sabered the bottles to open them and I sat sipping fizz and chatting with other guests on the incredibly comfortable outdoor seating before enjoying my meal.
The food at Zeen is fab, with contemporary twists of local classics and a pleasing wine list to accompany it all. Afterwards there is the elevated pool bar to head to for a night cap. In fact, the hotel holds evening events here too sometimes with guest DJs providing the ambient tunes to accompany the warm atmosphere. 
If you'd like to head out and explore the area, the staff at Domes Noruz are more than happy to assist. Real ambassadors for the locale, they show a passion for promoting Chania as a destination, as well as the hotel itself. However, I must admit, I spent most of my time by the blissfully peaceful pool (the beach a few steps away is public but never too crowded and Domes Noruz guests have the use of reserved sunbeds and beach service to bring them drinks etc). 
On the last evening of my break, though, I headed into Chania to enjoy another perspective on those glorious sunsets and I certainly didn't regret the small amount of effort it took! Arriving here by taxi I could see why there's a buzz about the place. The old town here has some really beautiful architecture, with cobbled streets leading into open plazas and then out onto the walled harbour itself. 
It was from the harbour that I embarked on a small, sunset boatride, which only cost €15 and was worth every penny! As the boat took us out to sea I could better take in the beauty of this port town, whose waterfront has a real Venetian feel. Out we went past a beautiful old lighthouse and down the coast until we reached the perfect sunset spot. Some of those onboard took the opportunity to have a swim, and we all enjoyed a complimentary shot or two of ouzo; who was I to refuse Greek hospitality? The sunset was spectacular, even better than the one I watched from my balcony bath tub!
Arriving back in the harbour I strolled around the busy streets. Chania really comes alive in the evening, when the heat of the day fades and the locals promenade along the waterfront. There are countless restaurants and bars when you can sit outside and people-watch to your heart's content, which I did whilst enjoy a particularly good tuna steak!
Chania is a fantastic choice for a summer holiday destination. With regular flights from both London and Manchester to the local airport during summer it's really easy to get there too. If you want a slick, grown-up holiday hideaway close to the action then Domes Noruz is the obvious choice. What's more, there are some fantastic deals to be had for selected dates during the summer holidays this year, which is great news for teachers who want to holiday away from youngsters. As for me, I can't recommend it highly enough, in fact, please take me with you!