Still not booked anywhere for your summer holidays with (or without!) the kids?  W&O's Sarah Garrod suggests a trip to Daios Cove in Crete…
An immaculate, safe sandy beach; a kids' club staffed by pros; and child-friendly amenities which range from a healthy buffet for little tums to safety fences around your private pool…it's fair to say that at Daios Cove younger guests have been carefully considered and tailored to. 
But despite this superb provision for families, the incredible sense of space and adult-only areas make the luxury resort on Crete's eastern side feel romantic and private too, perfect for those travelling as a two, or for parents in need of some couple time.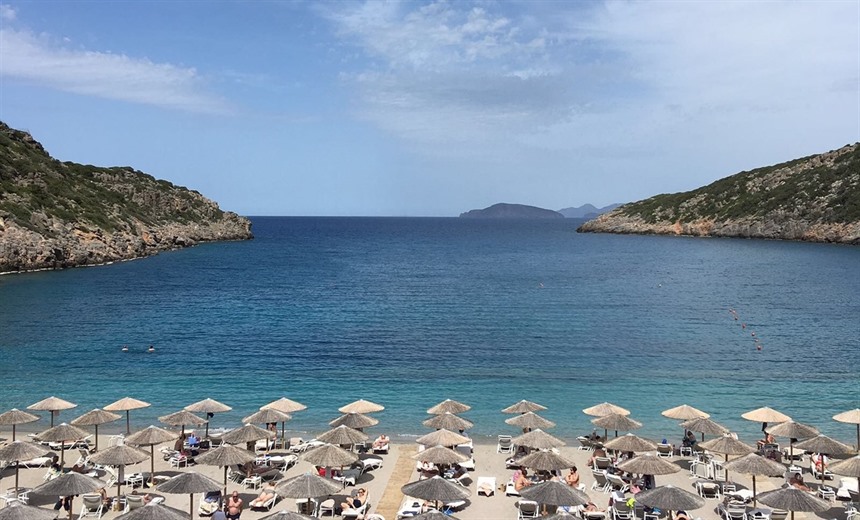 When we ventured there in May with our 18-month-old in tow the weather was perfect: warm, but not too hot. But the vast open, air conditioned spaces and shaded kids' club with outdoor covered area would make it ideal for family travel throughout the summer season. 
First impressions were, well, impressive! After our speedy 3 1/2 hour flight from the UK, followed by an hour transfer to the hotel, we viewed the Cove for the first time and felt a world away from home. You enter the resort at the top of the hillside which boasts a truly 'wow' view, with the buildings housing the facilities and accommodation spread out all the way down to the beach. A funicular and golf cart transfers make access super easy for all, regardless of the gradient. 
Rooms and suites of all categories are spacious, with plenty of outdoor space to enjoy those stellar views. For additional privacy and if you're travelling with older kids who require their own room, the villas are ideal, the crème de la crème of which is the epic Mansion! 
Mealtimes are a breeze for parents at Pangea thanks to helpful staff, children's plates, cups and crockery, and their own separate area (which opens early in the evening) offering hot, cold and healthy fare. One evening we went early to Taverna, right by the beach, where our daughter gorged on pasta while we tucked into delicious local moussaka, stopping off at the kids' club on our way back to our suite to throw a few shapes at the kids' disco! For adults, Ocean Restaurant starts serving at 8pm with its killer views and Mediterranean flavours… nearby the Crystal Box is perfect for a post-dinner cocktail and tunes.
Down at the beach the service of attentive staff makes the experience very relaxing, with the warm, clear waters perfect for a dip. The vast infinity pool meanwhile has a bar serving refreshments, as well as a small children's pool attached. 
For us though, the absolute highlight of our Daios Cove experience was the spa. Knowing our daughter was having a ball with others her own age at the crèche, we indulged in a back, neck and shoulder massage and use of the amazing facilities which include a Mediterranean bath. The Anne Semonin products used are some of the finest available.
So… if you're thinking of having a short-haul summer holiday with the kids, or looking to get some downtime just the two of you, I can thoroughly recommend Daios Cove. What's more, I saw for myself just how ideal it is as a holiday location for multi-generational travel if you're looking to invite grandparents along too. 
Your Destination Expert will be able to tell you more and create a bespoke quote with all the latest offers available to us. I know you'll enjoy it as much as I did.