Intead of boring you with a parchment scroll worth of reasons why we love YTL hotels luxury resorts in Malaysia and Bali (though, trust us, we could), we thought we would pick out the essentials: the rooms, the spa and the activities! So here is our guide on where to lay your head, how to fill your time and how to get back to the best version of you!
Our favourite room: We found this a decision rather difficult to make as all the accommodations at this luxury resort are villas, thus all offering space and privacy in abundance. However when pressed, we plumped for the Hill Villas due to their dramatic location up on the hillside; the phrase 'lord of all he surveys' comes to mind as the panoramic views out over the sea and tropical gardens tumbling down the slope are truly regal. With two separate hideaways per villa, the first floors boasts bathtubs whist open out to the rainforest; we warn you though, never again will you be satisfied by that view of your towel rack back home!
Our favourite spa treatment: Always one to indulge ourselves in the culture and heritage of the country we are visiting, we chose the Ukup Wangi, a scented body steaming with an interesting history. Once a frequent practice in Malay court houses among princesses and court ladies as an essential part of the preparation for the wedding night. This cleansing process uses warm oil, fragranced with flower buds and sweet spices to awaken and firm the skin.
Our favourite activity: With three different routes to choose from, we think a jungle trek is a must, a great opportunity to wonder at the natural landscape as well as learn about the animals who inhabit it from the experienced resident naturalist who accompanies you. The virgin rainforest is two million years old and boasts an array of fascinating wildlife, from crab-eating macaque monkeys to yellow pied hornbills.
Our favourite room: With only 10 of these rooms available, we fell in love with the Anjung Room straight away (okay so we love feeling like we're in on an exclusive club, who doesn't?). These beach rooms open up onto their own individual canopied verandah, the manicured gardens and sea beyond providing a great backdrop for morning stretching or romantic sundowners. Ideal for honeymooners or for those looking for a little magic, wake to views of endless blue, drap yourself gracefully over your daybed post pool and sink into your king size bed in the evening.
Our favourite spa treatment: In all our travels we have never come across a spa treatment like this 2/3 day handcrafted programme, available from November until February. Including heated herbal poultice remedies, the Malay art of healing with a heated compress, massages, using techniques passed down through generations and a variety of ancient therapies, you're guaranteed to emerge feeling like a totally new person!
Our favourite activity: We recommend heading out on a half-day cruise along the beautiful Marang River, a brilliant way to take in the scenery and wildlife (such as monkeys and exotic birds) without having to put on your hiking boats. You'll also get the opportunity to disembark at a jetty downstream and meander around a traditional Malay village, where the villagers still practice ancient food preparation and craft methods.
Our favourite room: Hidden by the tropical mangrove on a gently sloping hillside, the Bayu Villa's are truly an idyllic hideaway. Offering peace and privacy, hidden among the trees, yet only walking distance from the resort's beach, we couldn't fault these villas (and trust us, it's our job to try!)
Our favourite spa treatment: We've gone all vanilla, and we don't mean bland, we're talking crushed vanilla pods and yoghurt prep your skin for a vanilla infused honey cacao fruit masque. This delicious concoction smooths and hydrates the skin, filling it with anti-oxidants and drenching it in moisture! To top it all off, while the mixture is soaking in, you'll be able to drift off with the help of an Indian scalp massage and vanilla honey hair masque.
Our favourite activity: Get to grips with Sabahan cuisine with the Borneo Culinary Journey cookery class. You'll be introduced to local ingredients at the mini tamu market place before taking your loot back to the kitchens to try your hand at authentic recipes handed down by a plethora of ethnic groups. All culminating in a tasting (our favourite part)!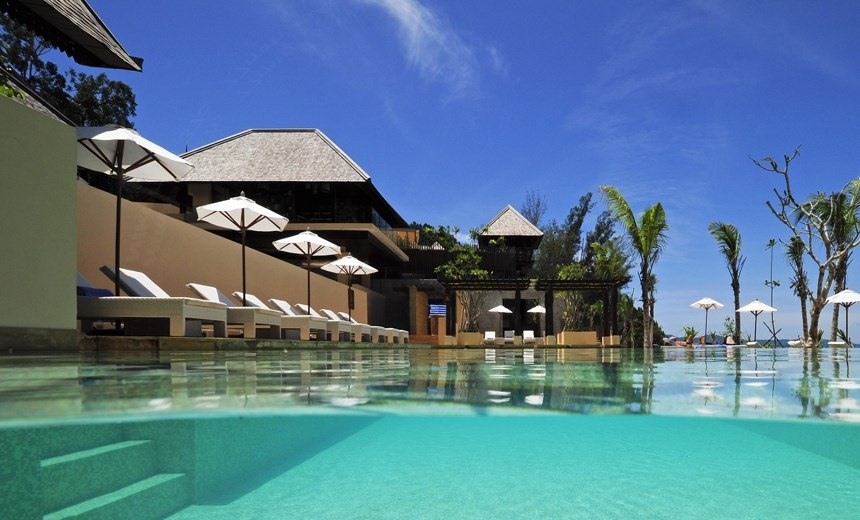 Our favourite room: We love the simple elegance of the Kamar Rooms here, emulating traditional Balinese culture combined with modern comforts and amenities. Slide back the doors in the morning to reveal your private terrace, looking out over the sea, perfect for enjoying that first coffee or breakfast.
Our favourite spa treatment: Who would have thought that chocolate and coffee would be good for us? Turns out they have some pretty impressive healing properties, which is why we love this treatment! Coffee assists in microcirculation and evens skin tone, raw chocolate nourishes the skin and a moisturising mask of cacao fruit and aloe vera and a vanilla bean and coconut oil massage.
Our favourite activity: Though an array of tours and activities are available, we would recommend the Amed coral garden diving trip: a whole day of exploring the marine life that resides here, from the clownfish to the Blue Spotted Ray and many more besides. The conditions here make this perfect for novice divers as well as experienced divers, so round up the clan and get your wet suit on!