Commissioning Editor of GQ Magazine, Charlie Burton, discovers The Chapman's Challenge on a recent visit to Malaysia with Western & Oriental… 
In May, I represented GQ in a new endurance race on the Malaysian island of
Pangkor Laut
. The event has quite a backstory being, as it was, inspired by the exploits of Freddy Spencer Chapman, a British colonel who found himself deserted behind enemy lines in Japanese-occupied Malaya during World War Two. 
Having survived for three years on the mainland, he finally got word to the allies of his whereabouts and they agreed to send a submarine to his rescue. Chapman duly made his way West to
Pangkor Laut
, where he hid out until the agreed time and then swam out to meet the sub. 
Seventy one years on, the island is owned by the luxury hotel group YTL, which has built an extraordinary resort down its eastern side. Keen to embrace the island's history, the management has set up "The Chapman's Challenge", a race that emulates the final stages of Chapman's adventure. It's sprint distance – a 6.2km run followed by a 1km open water swim – but the geography is unforgiving (the humidity is so high that the sweat barely evaporates and the inclines can be as steep as 50%).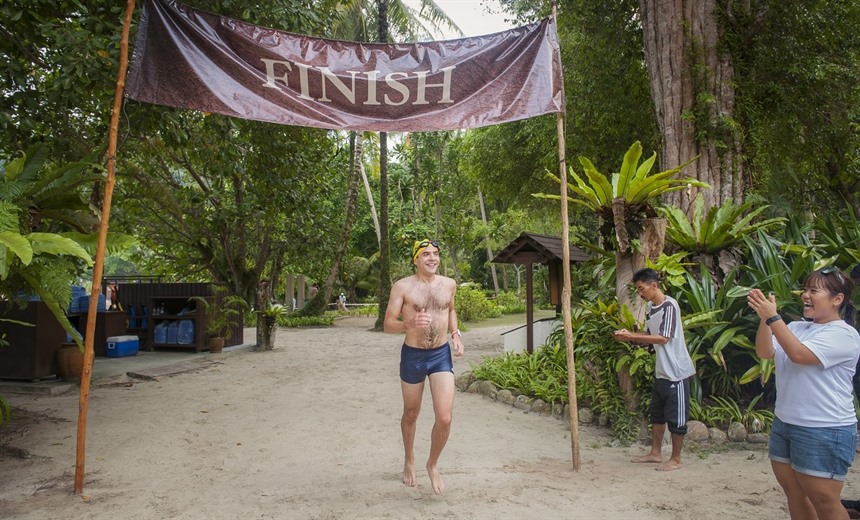 If you are planning on taking part, here are five vital tips:
1.
You will be tempted to hold back on the initial road section. Don't. This is your chance to get a good position in the pack as you will find it hard to overtake competitors in the jungle. Keep a steady pace uphill but let loose on the descents.
2.
Get hydrated. Start drinking water in large quantities 48 hours before – yes, you'll need to pee a lot, but so be it – and add electrolyte sachets to your bottle before the race.
3.
Invest in trail shoes. The jungle trail is technical, beset by roots and rocks, so shoes with good grip and structure are essential.
4.
Use clear rather than tinted goggles for the swim. The race is held early in the morning, so the sun is on the other side of the island and won't get in your eyes, and clear lenses are helpful for sighting.
5.
For pacing, keep in mind that the current will make the homeward swim easier than the outward stretch.
Read Charlie's full review of his experience for GQ online here. If you've been tempted to take part in this extraordinary experience, take a closer look at the sublime Pangkor Laut Resort in Malaysia or speak to a Destination Expert about arranging your own Chapman's Challenge.