When staying in the InOcean Villas you have exclusive access to the overwater restaurant for an à la carte breakfast (with some buffet items too) and you are also just a very short boat ride away from the beaches, restaurant and bar on the main island. If you'd rather be based on the main island, a stay in a beach villa is also a lovely experience, being directly on the beach and with the option of your own jet pool. Another short boat ride will take you to the house reef, which is definitely worth a visit!
The all beach villa accommodation at Angsana Ihuru is gorgeous. Each villa boasts an outdoor bathroom (completely private of course) with a small private garden area and direct access to the beach. The bathrooms come with a provate Jacuzzi too. There are only 45 villas in total, and maybe because of this boutique feel the resort has a great atmosphere in the evening, with the bar having a daily signature cocktail. But perhaps Angsana Ihuru's biggest selling point of all is the amazing house reef, which completely surrounds the island and is only a few steps from the beach, so you can snorkel and sea the abundant sea life whenever you like.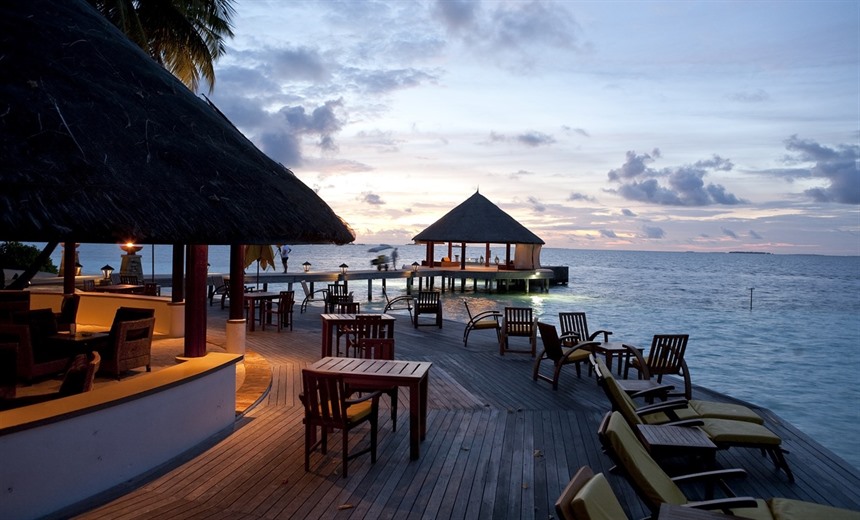 Angsana can also arrange a few magical moments at either resort, such as a private BBQ on the beach (from where I saw the super moon!), a champagne sunset cruise or a trip to swim with manta rays or whale sharks dependent on the seasonality. My stand-out experience was the amazing sandbank picnic, where we were dropped off on our own sand bank to swim, snorkel or sunbathe, then when we were ready the attentive staff served delicious food and drinks. To drink a bottle of beer and eat cheese and crackers in the middle of the Indian Ocean is an amazing experience that I will never forget!