If driving through the Rocky Mountains has long been on your travel bucket list, read on to discover how our Senior Product Manager David Pointer, and Destination Expert Leanne McGarrity turned a three hour drive into eight!
We decided to set out from Banff one morning to take the Icefields Parkway through
Canada's
breathtaking Rocky Mountains to Jasper. Having checked a well-known online map for directions we were sure we could reach Jasper for lunch three hours later.

The first part of the journey we chose to go off the main road and take the Bow Valley Parkway in the hope we would be lucky enough to spot some wildlife along the way, but instead we found ourselves stopping at every photo opportunity imaginable, including Castle Cliffs. 
By the time we reached the impressive Lake Louise, we were already an hour behind schedule, and over 400 photos richer, but disappointingly no wildlife spotted. In those two hours the weather had already changed from a crisp breezy morning, to warm winter sunshine, to a full-on snow blizzard, with Lake Louise not even visible from the terrace of the Fairmont Chateau Lake Louise! Within the blink of an eye the skies were blue again and Lake Louise, although still frozen and covered in snow, was majestically sitting in front of us
We set off again for the rest of our Canadian Rockies adventure, our GPS set for Jasper, which it informed us would be a 2.5-hour drive. Hmm…what it didn't tell us was that the scenery would be so breathtakingly beautiful that we would be stopping every ten minutes for photo opportunities or taking diversions to dramatic waterfalls. Mountains tower above you on both sides, clad with pine trees and topped with snow; frozen lake after lake; glaciers, and mountain peaks piercing the sky at every turn, but still no wildlife. Many a stop was made for that iconic Canadian Rockies photo; in fact, we took so many that it's now difficult to remember which lake, glacier and mountain they are of! 
One of the most popular attractions along the Icefields Parkway is to take the Ice Explorer on to Athabasca Glacier and 'walk on air' at the Sky Walk. You first board a specially adapted vehicle created to traverse icefields, then head high up onto the Athabasca Glacier…a truly unique experience.
A newer attraction is the Skywalk, a metal and glass structure jutting out of the mountainside and over the valley below (similar to the one at the Grand Canyon), which is not for the faint hearted.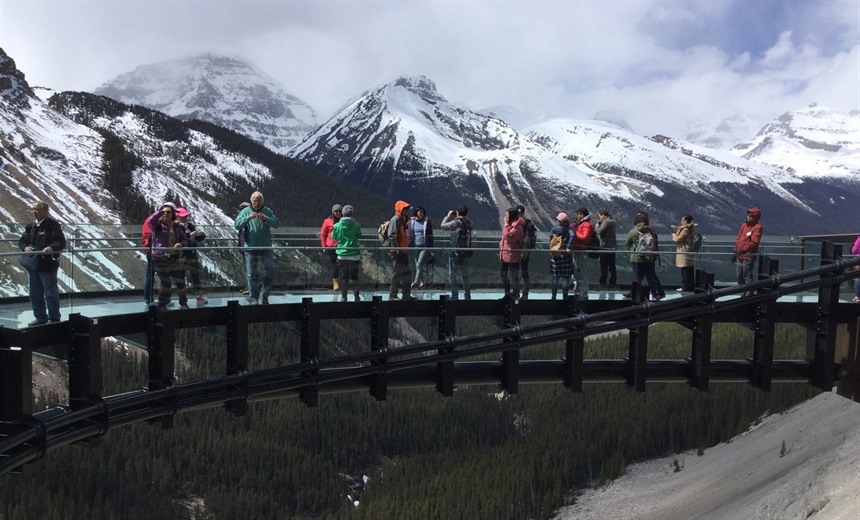 Travelling north the lakes start to disappear and raging rivers take over, with more photo stops made at Sawapta and the stunning Athabasca Falls.  
Yet still we had seen no wildlife, until…wait, what's that on the side of the road? It's a giant ball of fur eating grass on the verge, all cute and cuddly! The closer we got the less cuddly it looked, but still an incredible and moving sight, our first wild black bear. We were totally made up! And as we drove along we saw yet another black bear, and then another and another, we just couldn't believe our luck. And the luck just kept coming, as we found another bear crossing the road and as we stopped he climbed a tree, where we spotted yet another sleeping high up in the branches.
Before we knew it, it was 7pm and we were arriving at our delightful lakeside accommodation in Jasper. Most definitely a day we will never forget!
To have a Canadian Rockies adventure of your own, take a closer look at our suggested fly-drive itineraries or call a Destination Expert on 0203 553 9299 for a bespoke quote.