Set among the towering pines of Trapper Peak, the highest mountain in the Bitterroot Mountain Range of the Rockies, Triple Creek Ranch is Montana's best-kept secret. Our Destination Expert Carly Hartley saddles up for an unforgettable all-American experience. 
Bordered by Canada to the north and Yellowstone National Park to the south, and split into east and west by the vertical continental divide that is the Rocky Mountains, the state of Montana is a place of outstanding natural beauty. And somewhere in the state's remote southwest, hidden away in the midst of a mountainous pine forest, is Relais & Châteaux's
Triple Creek Ranch
. 
It's a scenic one-and-a-bit hour drive from Missoula International Airport to Ravalli County, winding into the Bitterroot Mountains where the ranch sits at a lofty altitude of 4,500 feet. They call this place Big Sky Country and big is certainly the word: big views; big mountains; big trees; big spaces as far as the eye can see. And this is the setting that awaits guests at Triple Creak Ranch. 
And let me tell you, this is no down-and-dirty ranch. In fact Triple Creek is as much lux-resort as it is ranch; an adults-only, all-inclusive place of rustic elegance and five-star service with the great outdoors right on your doorstep. 
I checked-in to one of the ranch's luxury one bed wooden cabins; my own private sanctuary with palatial king size bed, cosy living space with roaring fireplace, and most excitingly, a wrap-around outside deck with private hot tub beneath the whispering pines. Each cabin comes with its own golf buggy for travelling around the 700-acre plot where the main lodge and guest cabins are located, and it was just a couple of minutes' 'drive' to dinner at the ranch's renowned restaurant. 
Executive Chef, Jacob Leatherman, has been curating the dining experience at Triple Creek Ranch for over ten years, and there's an exquisite new dinner menu each evening. This is high-end, gourmet dining, with produce sourced seasonally from the ranch's own gardens and orchard. Expect treats like grilled tequila prawns to start, followed by mouth-watering Durham Ranch wagyu beef with roasted date BBQ sauce, and rich chocolate brownie served with hot fudge sauce and caramelised bananas if you still have room.
An excellent selection of sparkling, white, red, rosé and even desert wine is complimentary, but for those who wish to push the boat out, Sommelier Jeremy White is happy to recommend something special from the ranch's extensive wine cellar of over 700 labels.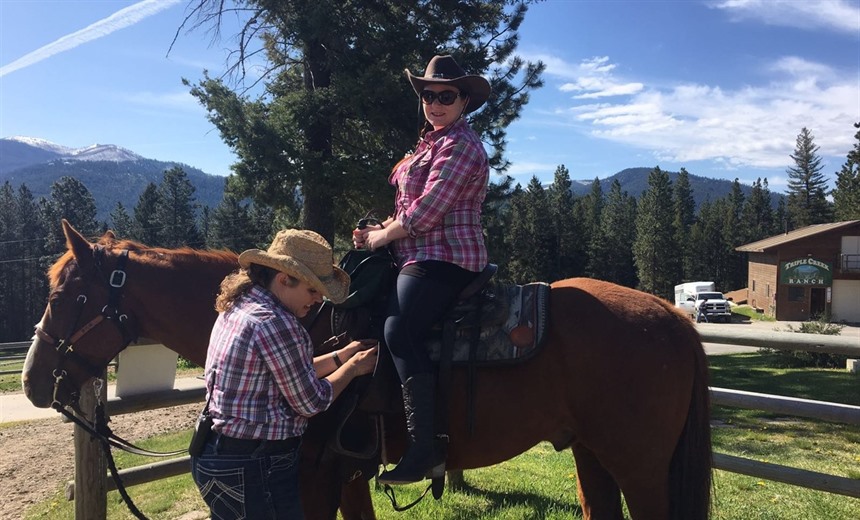 Thankfully there are plenty of included activities on-site to work off any excesses, and the following day I headed off on my first horseback ride into the wilds of Montana. I am a total novice with no horse riding experience at all, as are many of the guests who come here, and I was paired with a horse who knew how to take it easy. While the more experienced riders cantered off for a three-hour adventure, our small group meandered through the richly-scented Ponderosa pine forest and along glorious mountain trails for around an hour and a half, getting to know our new equestrian counterparts and the beautiful landscape – home to white tail deer, mule deer, elk and the occasional bald eagle. 
For those who feel as at home in the saddle as they do on two feet, the ranch offers an additional range of Western activities at extra cost, like the day-long cross-country horseback adventure through 26,000 acres of privately-owned countryside, the thrice-weekly cattle drive in Sula Valley or the weekly Team Penning event - a true cowboy or cowgirl experience where teams of guests and cowhands compete on horseback to move calves into separate pens.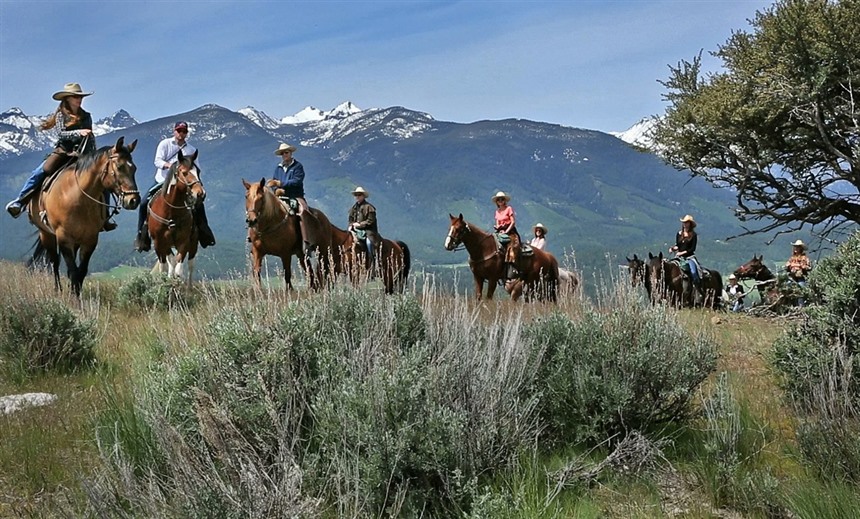 Fly-fishing and guided nature walks are also included as part of the Triple Creek experience, plus there are countless incredible hiking trails through the Bitterroot National Forest starting from right outside your cabin. Triple Creek will supply everything you need from trail maps, backpacks and bottled water to gourmet picnic lunches and sunscreen. 
While I loved exploring the great outdoors, part of Triple Creek's charm is the joy of doing nothing at all. I spent many hours relaxing by the beautiful swimming pool and in my own private hot tub, or partaking in my new favourite hobby – panning for sapphires. It was glorious to sit in the sunshine with a huckleberry cocktail, finding around ten or so sapphires each time I panned. Montana is renowned for its sparking gems in blue, orange, pink and green, and you can keep as many as you find as souvenirs of your incredible time at Triple Creek.