Full from a delicious breakfast of fresh fruits, pastries and yoghurts beside your private plunge pool, you meander leisurely toward the beach, along the wooden walkways and through the lush greenery of the tropical plant life. You gather your snorkelling equipment and head below the surface of the waves to explore the underwater world of the Baa Atoll. If you venture a little further out of the resort to the nearby dive spots, Manta Rays are sure to be sighted, but even just a few metres from your villa, the sea life is enchanting. Immersed in an underwater playground, the next few hours fly by and you wade back out of the water and flop down on the sands and to dry off.
After lunch outdoor at the Cowrie Restaurant you head towards the spa. The sun warms your bare feet before the solace of the Coco Spa gently cools you down. After indulging in a massage or a facial, or any treatment of your choosing from the extensive spa menu, you relish in the feeling of complete and utter relaxation.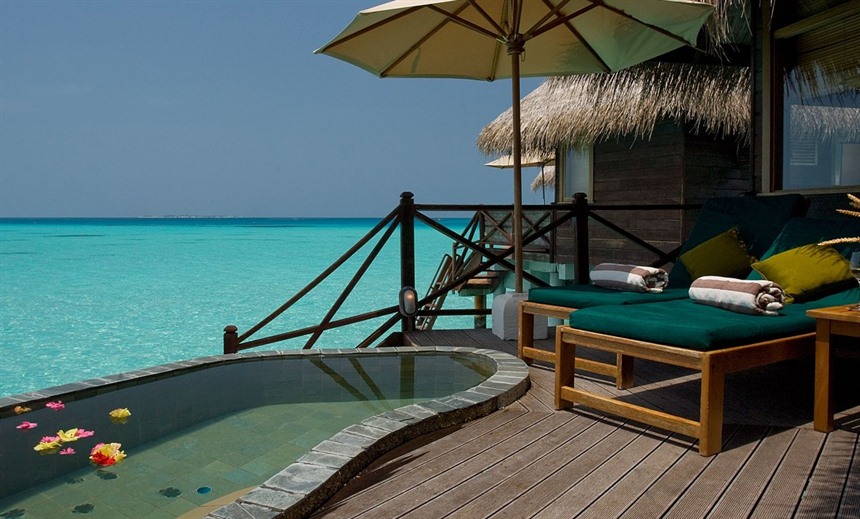 Gaze to the sunset, you wander along the endless stretch of unbroken white sand, appreciating every moment of peace and quiet. Here, dinner awaits, and after the chink of your sundowner glasses and the myriad of colours as the sun melts below the sea fades, you tuck into the local delicacies served to you by your private waiter and discuss all you have done today.
As you slip into the crisp, white sheets back in your villa, every inch of you completely relaxed, you can't wait to see what tomorrow will bring. Maybe a canoeing or fishing excursion? A game of tennis perhaps? Anything feels possible at the
Coco Palm Dhuni Kolhu
.